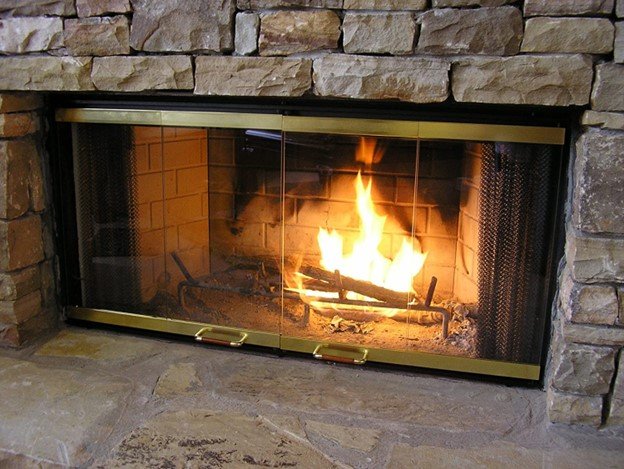 A fireplace can be the perfect addition to your home. It can provide you with the heat you need, as well as look rather aesthetically pleasing. People are definitely drawn to the appearance of these products and to the beauty that they add to any specific room in a home, but the truth is that they consider the heat output as well when trying to decide if they want to get it. Well, the great thing is that a fireplace can keep the room warm and also add to its appearance. Here is more about this product.
Now, when you first decided to get a fireplace, you have definitely a lot to think about. You had to decide whether to get a gas or a wood one, and then you also had to buy the perfect logs for the option you have chosen. Of course, prior to buying the logs, you also had to carefully go through the installation process, so as to be sure that you are getting the best for your home.
After you have done all of that, one thought probably crossed your mind. Should you add glass doors to your fireplace? You have seen this being done by some other people, and you now want to determine if you should do it as well. Well, this is a pretty important decision to make, and you will have to learn about the benefits of adding those glass doors if you want to be sure that you're making the right one. So, let's check those benefits out.
Benefits Of Fireplace Glass Doors
There are some quite important benefits that you should be aware of when trying to decide if you want to add those glass doors to your fireplace or not. After all, if you don't know whether there are any benefits to it, and if you're not aware of those, you won't be able to understand what it is that this product brings to the table, or to decide if it is right for you. That is why I am now going to tell you more about the actual benefits of those glass doors.
In case you don't know how to choose your fireplace to begin with, this should help: https://www.thisoldhouse.com/fireplaces/21017277/how-to-choose-a-home-fireplace
First things first, these doors will minimize the air going out of your chimney, meaning that they will be highly energy efficient. An open fireplace won't be as efficient, since it is basically like an open window. Apart from increasing the heat of a burning flame and practically tripling the net heat in your home, the doors will also help you during the summer, since they won't let the cold air escape through the chimney.
We all like seeing a beautiful fireplace, but a lot of us don't really think about the cleaning process until we find ourselves having to go through the process. Well, cleaning can turn into a constant nightmare if you don't have fireplace doors, because all the debris and the ashes will fall right outside, possibly staining all the items near your fireplace. If you want the cleaning process to be simple and easy, you should get glass doors and keep all the debris inside.
It is also worth mentioning that these doors add to the aesthetics of it all. Regardless of your specific style, you will definitely be able to find the right door option for you. This further means that you will find a product that fits in with your overall décor and that will definitely make any room look cozier and more beautiful. While this is not the most significant benefit, it is definitely one worth considering, since we all like making our homes cozy and beautiful.
Where To Get Them
The above should have helped you figure out if you want to get a ceramic fireplace glass door or not. Since you've gotten familiar with the benefits, you now have a much clearer idea as to what these products bring to the table, meaning that you are probably interested in buying them. Of course, you now need to figure out where to actually buy them, so let me tell you a bit more about that.
Fortunately for everyone,  today we can order these products with the help of the Spectrum One Internet This is a great thing since it allows you to have a look at various different styles and options, with the aim of finding the perfect one for you. Apart from checking out different styles, you should also remember that choosing a great store is definitely highly important because you want to be sure that you are getting the perfect quality services, as well as the perfect quality glass doors. So, in short, you can buy these products online, but make sure to choose the right suppliers.